How to Create the Perfect Bathroom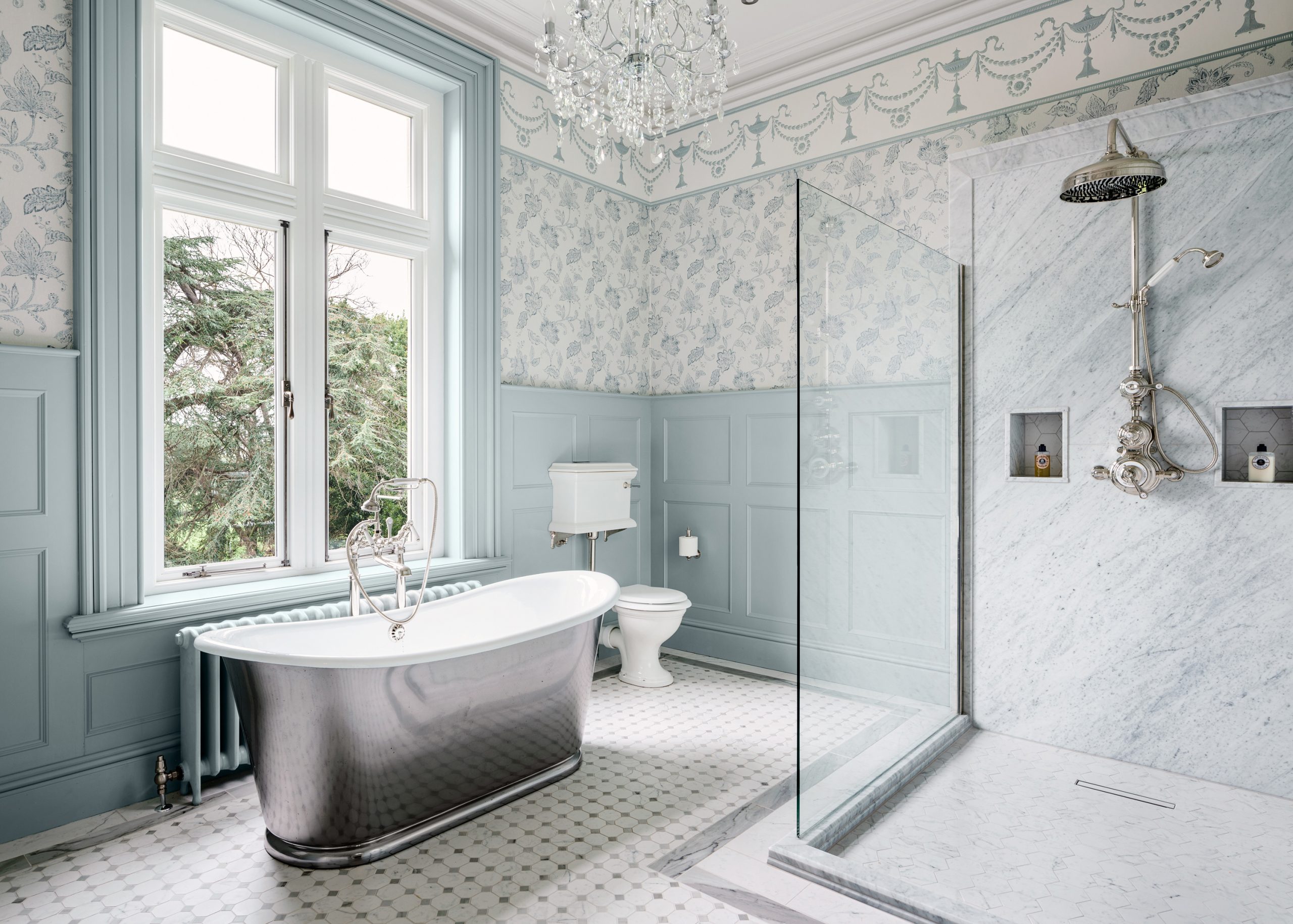 Do you dream of a beautiful, tranquil, luxury spa aesthetic in your own bathroom? Or perhaps a high-tech yet minimalist zen calming space? You're not alone. But, let's face it, most of us require a functional space that can withstand the daily demands of a family and the practicalities of everyday life. Too often, the bathroom is less sanctuary, and more utilitarian. 
Plan the Perfect Bathroom
That longed-for and much-needed evening soak and pamper, surrounded by aromatherapy candles and listening to ambient music rarely happens. We ogle glossy home magazines and lifestyle supplements. We covet those opulent yet still, somehow workable, spaces. And yet, we tolerate a bathroom which does the job but brings little or no pleasure. Enough! A bathroom can be beautiful whilst also delivering plenty of practicality. We can make that happen.
We can make your bathroom dreams come true – or at least, we can bring your dream bathroom to fruition. With all our projects, communication with our clients is key. By discussing in the very minutest detail your requirements from each and every space within the home, we can make that sanctuary of a bathroom work for you – AND your family. We can deliver a space that fulfils your needs – and is as beautiful as anything you've lusted after in a home and living magazine. Whether that's a tailor-made en-suite for every bedroom or a shared family bathroom, we customise each area to the person who will use it.
Here, we share our expert advice and give you an idea of how we create each bathroom type with recommendations on finishes, layout and lighting.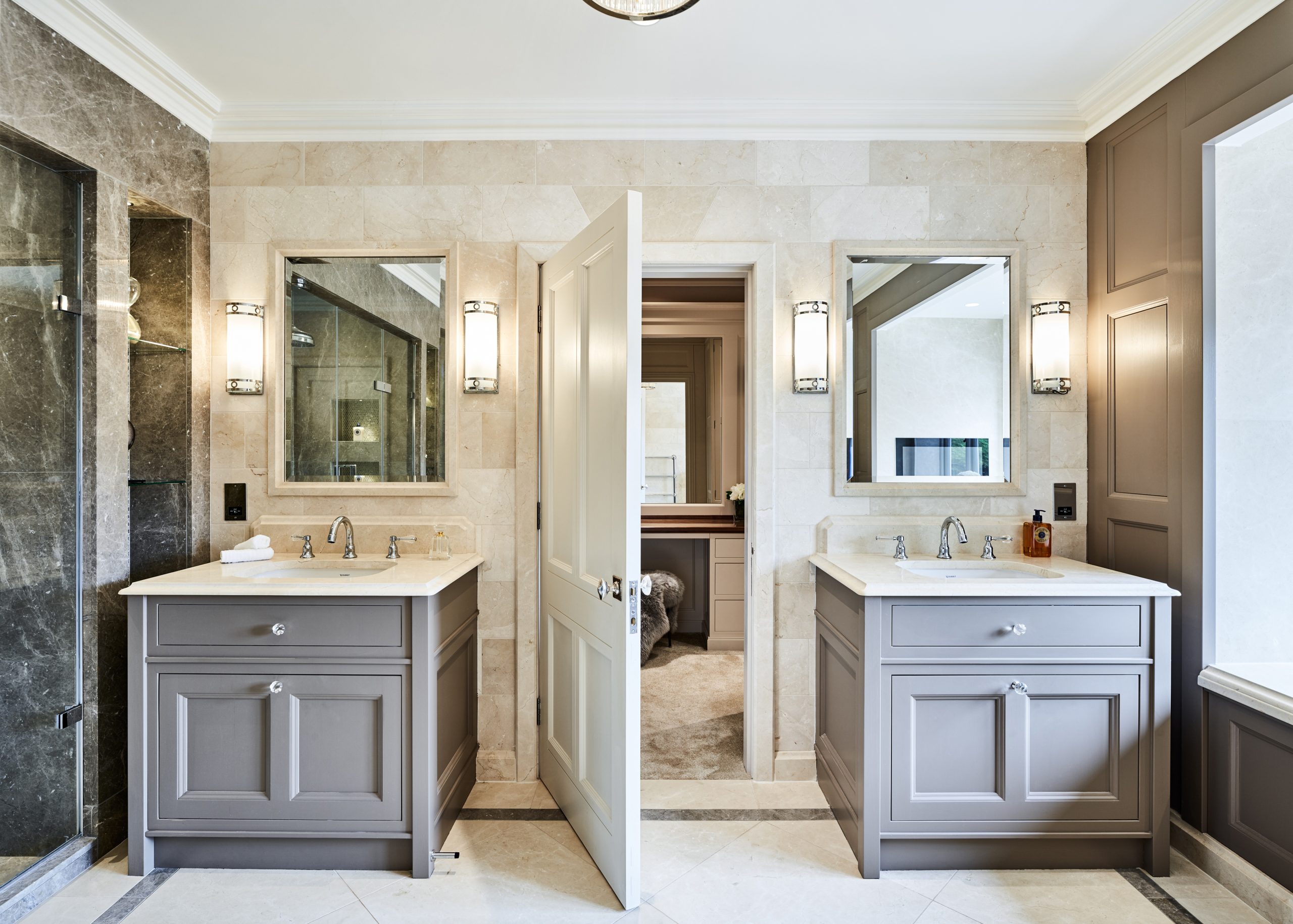 Family Friendly Bathrooms
The family bathroom tends to be a larger room to accommodate the needs of children and parents. As they are shared bathrooms, we would usually advocate a separate shower and bath layout, providing a bath for young children (and for tired parents, if this is the sole bathroom) with a shower for future use as the children grow up and turn into truculent teenagers. Functional, yet discreet where possible, storage is a must – whether that's cupboards, cleverly hidden storage solutions, or a vanity unit. If space allows, we'd advise accommodating a double vanity, which is highly recommended.
A word to the wise: often, we're asked should a client ditch the bath altogether as they never use it, the kids are grown-up, etc. Unless space is at a premium, keep the bath. You never know when you may want to sell.
Whilst we'd always advise doing up your house for yourself, not for future value, most buyers would like a family bathroom.
The En-Suite – Small but Perfectly Formed
The average en-suite tends to be on the bijou side. Space-saving fittings aren't just necessary but paramount – without compromising on comfort. We expect a lot from our en-suites, so we really have to plan everything to the nth degree. A wall-mounted WC enables a greater floor area and creates a sense of space. Even wall-mounted sinks with built-in vanity drawers are terrific as they provide ample storage, which is kept pleasingly out of sight. By wall-mounting the sink, once again, there's an additional appearance of floor space.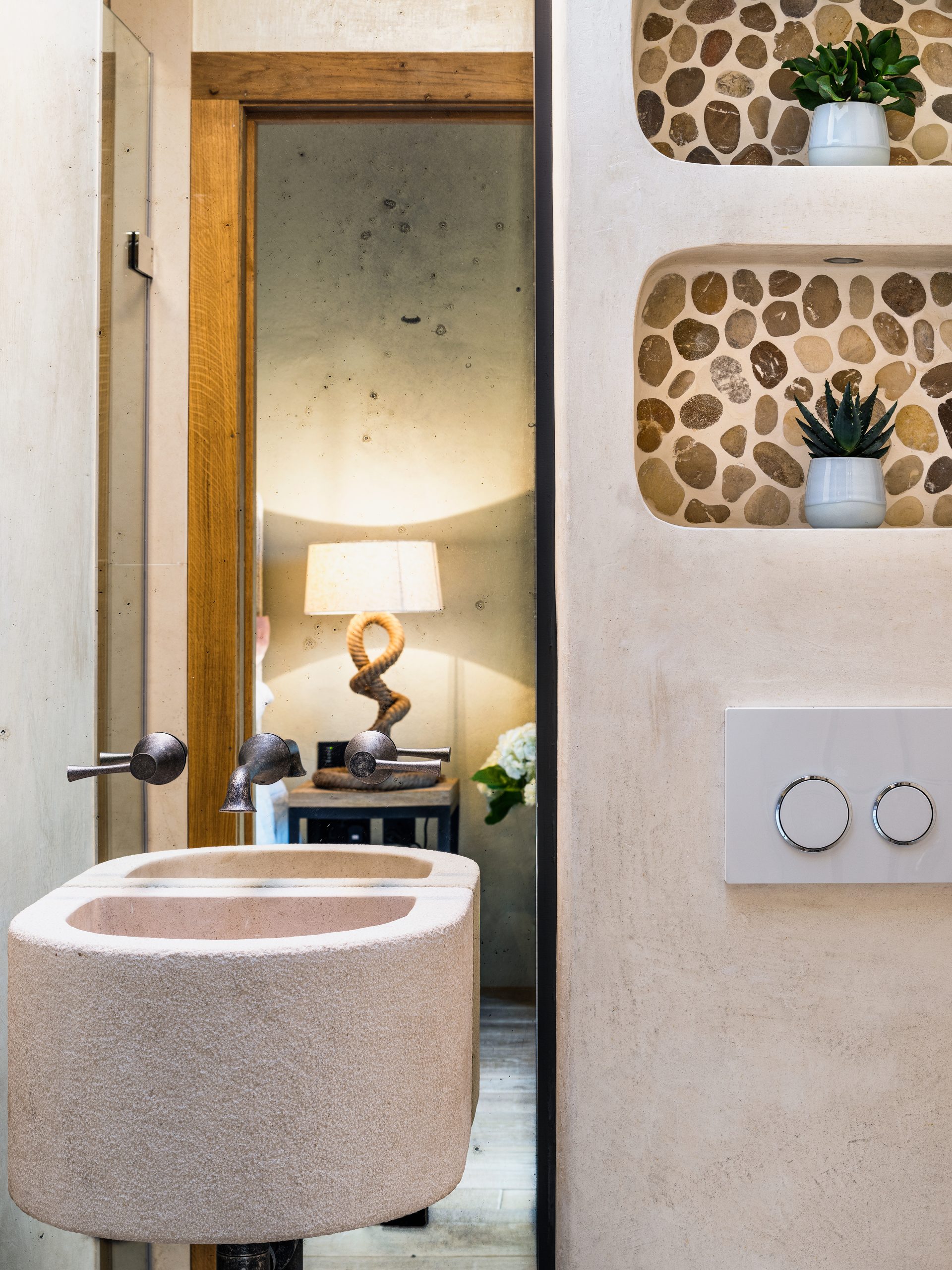 Reflective surfaces can also enhance the feeling of light and space, so we'll think carefully about décor and trims.
Highly polished chrome and high gloss surfaces will bounce light, and plenty of mirrors – or one generously proportioned mirror – will augment that appearance. This is especially important, as en-suites are frequently internal and windowless, so can be deprived of natural light. 
Let There be Light (in Your Bathroom)
As interior designers, we know the impact of lighting. The right lighting is an integral part of any design project, and we spend time getting the lights exactly right. Good lighting can highlight or disguise features; it can emphasise space and create the perfect atmosphere. Recessed spotlights are popular for their seamless appearance. Conversely, too many overhead spotlights in bathrooms are a big no-no. The effect can be harsh and unforgiving, not conducive to that relaxing bath.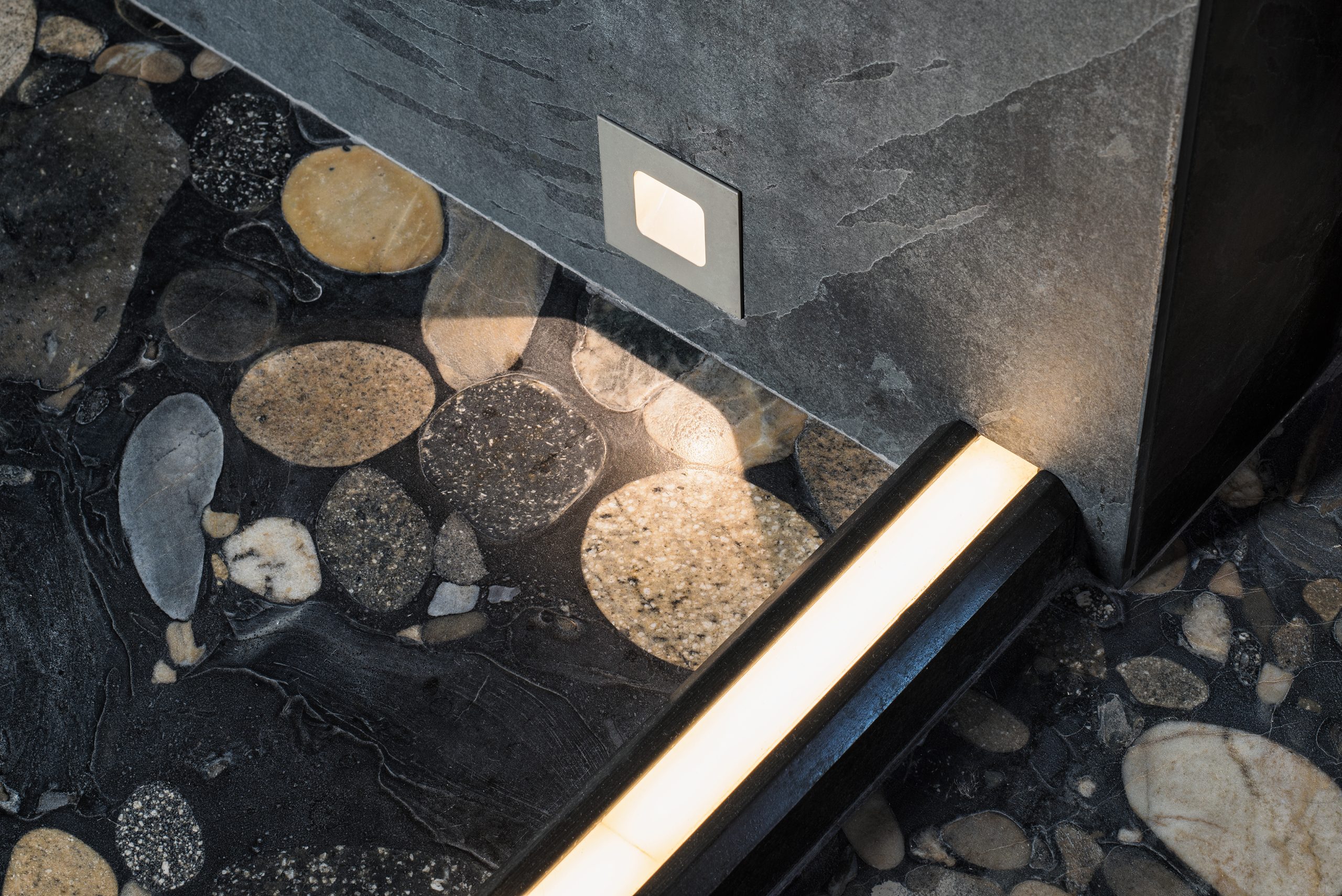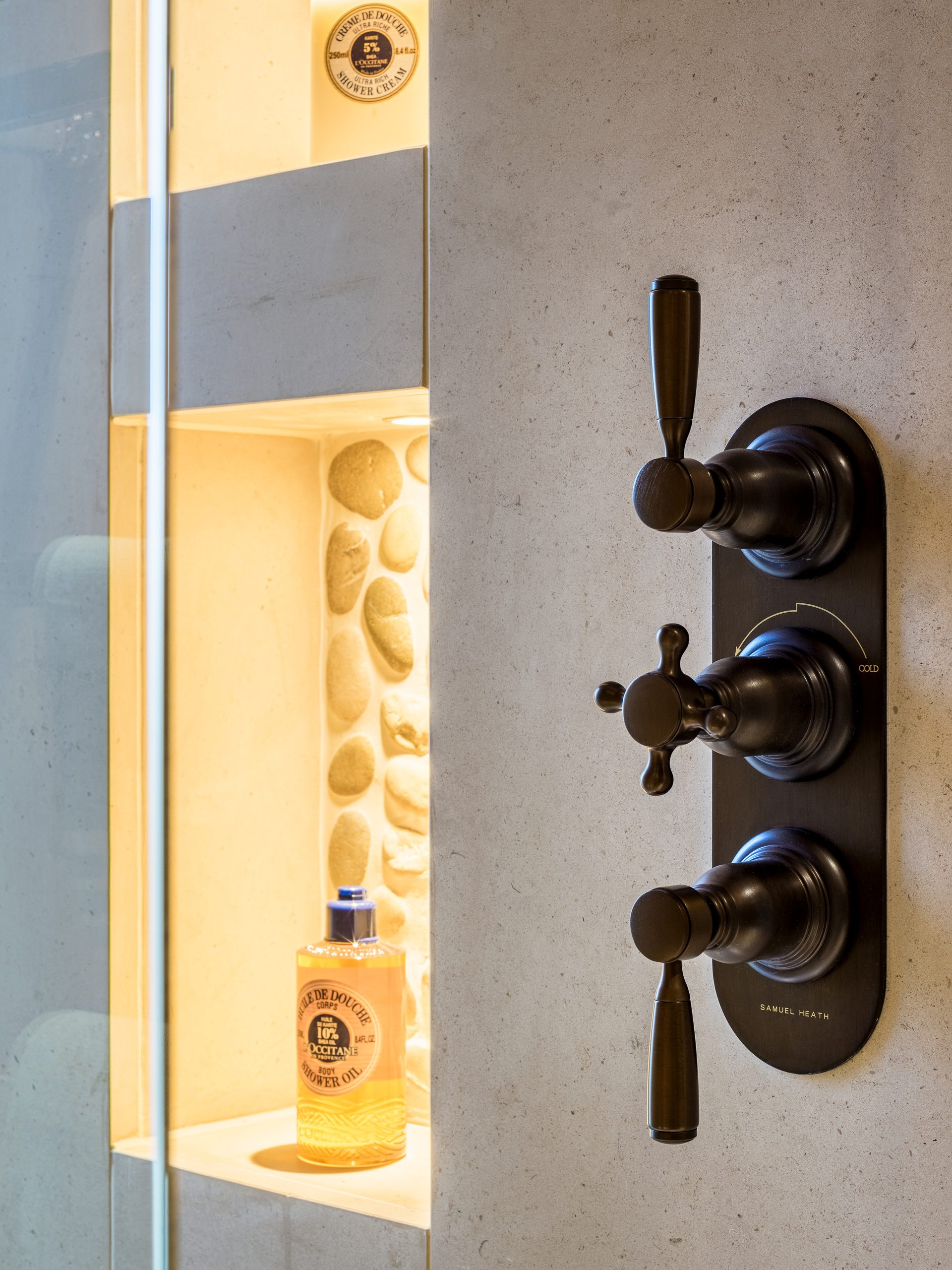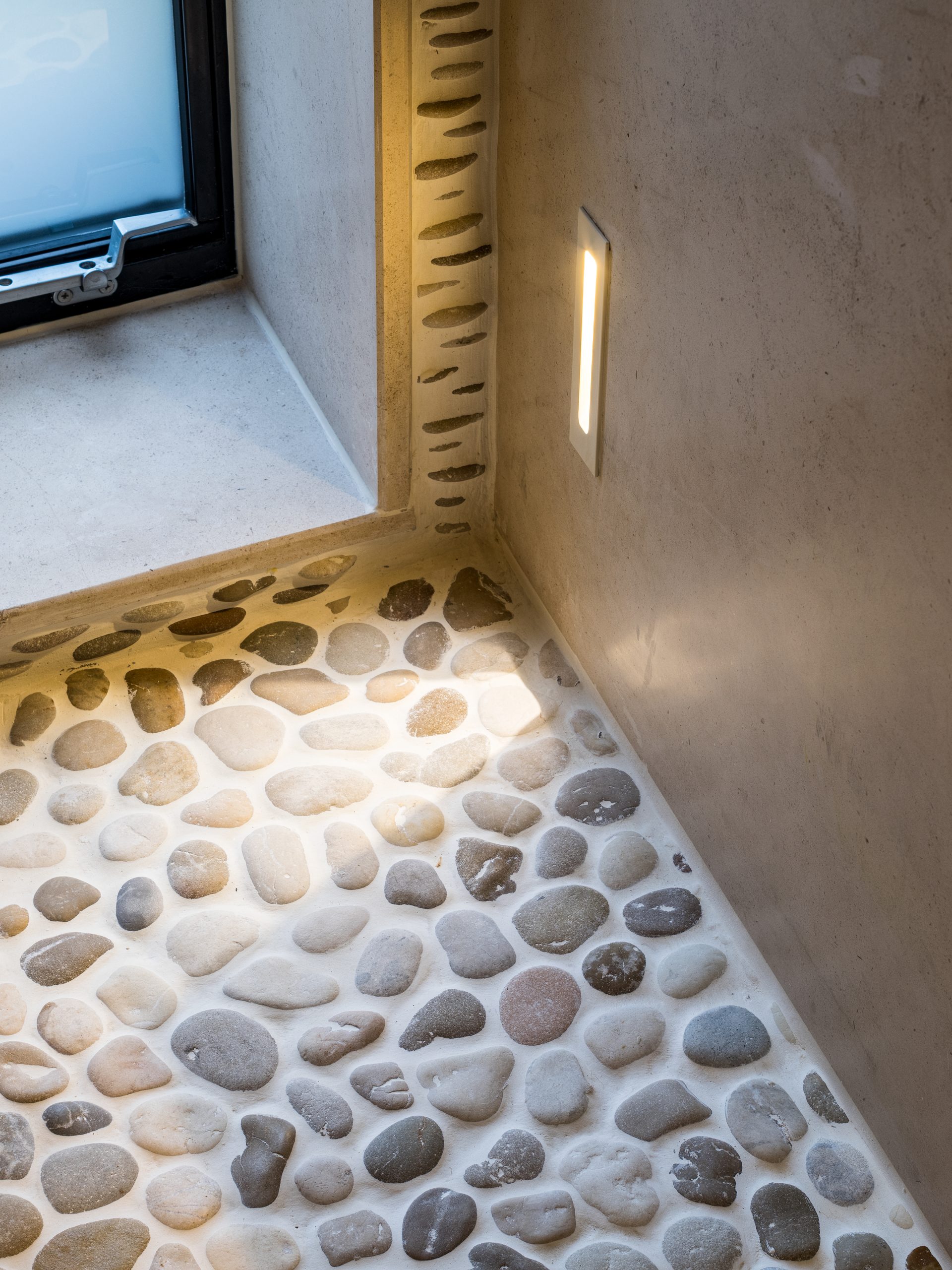 Harsh lighting over your head does not give the most calming effect; quite the reverse. Instead, consider layering your lighting; low-level wall recessed lighting is something we always suggest when planning bathroom designs. Allowing a separate circuit for this means you can choose soft lighting for relaxation without switching on the functional lights.
Good, clear face lighting is essential, so we recommend eye-level wall lights on either side of the mirror to provide an even spread of light. This is ideal for applying make-up or shaving.
Bathroom Storage: A Place for Everything; Everything in its Place
Something we've already touched upon (but it's important enough to mention twice) is bathroom storage. Ensuring a bathroom is clutter-free is essential not just for that relaxing spa ambience, but also to create the feeling of space. Vanity unit storage is an unsung hero in the bathroom, as drawers are far more useful – and easy to organise – than cupboards. Pulling out a drawer gives access and visibility – see all the bottles, lotions and potions at a glance. No more missing hidden items languishing at the dark, inaccessible back of the cupboard shelf.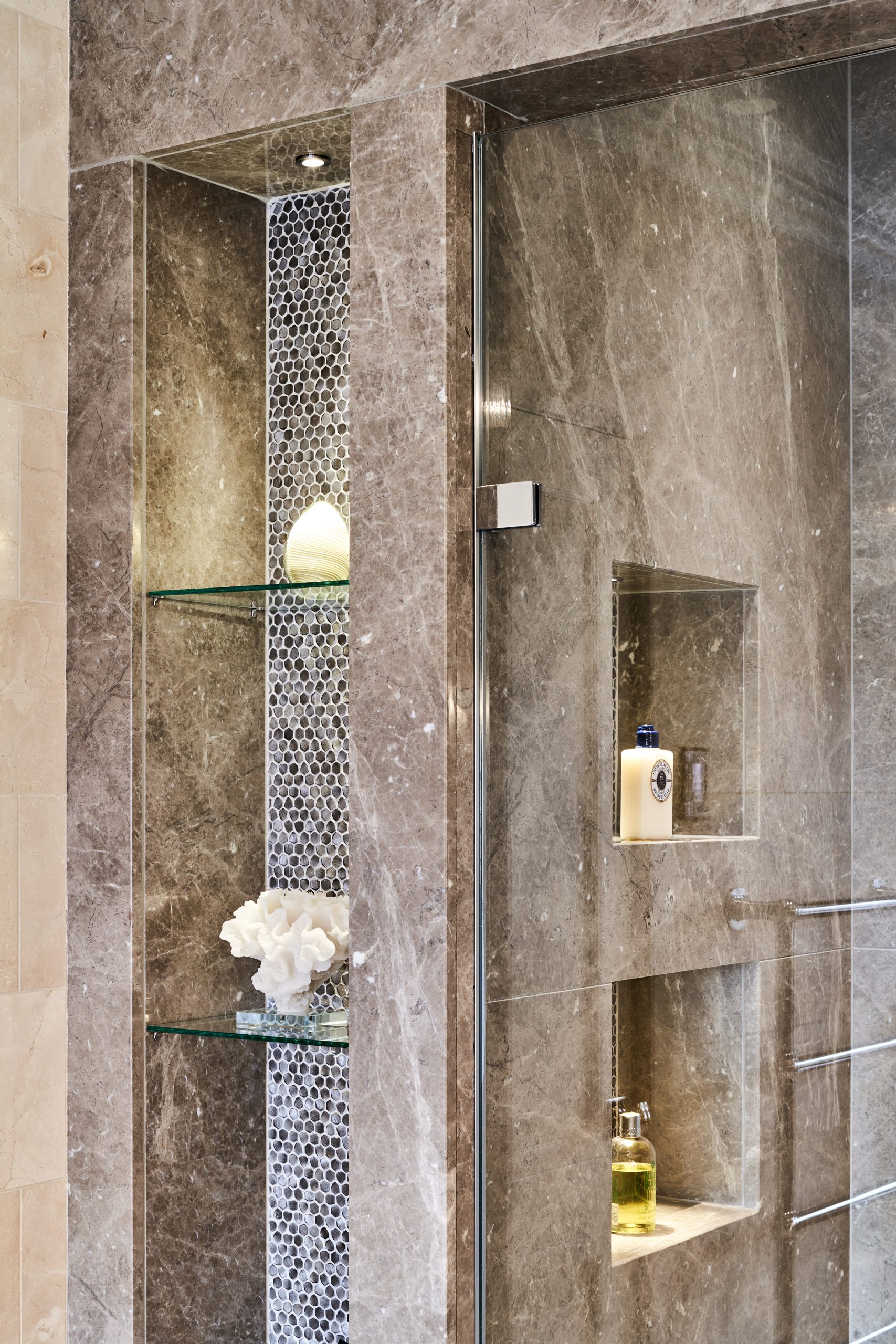 Recessed shelving or niches within bathrooms is both useful and popular whilst also looking perfectly stylish.
It's ideal for decorative items or the more attractive perfume bottles and air-improving plants. Due to design and plumbing requirements, we may need to plan voids to accommodate pipes, so it makes sense to use those spaces. This can add a decorative element and interest to what could otherwise be a flat, plain wall.
En-Suite Mastery for the Master Bedroom
The master en-suite demands an extra-special touch because these usually are exclusively space just for you. Unlike the family bathroom, this is all yours. Often forming part of a broader master suite scheme, the ensuite must deliver practicality and luxury without losing the all-important flow, or cohesion. Often, we'll design this in conjunction with not just the principal bedroom but also his-and-hers dressing rooms to segue seamlessly, much like a high-end hotel suite.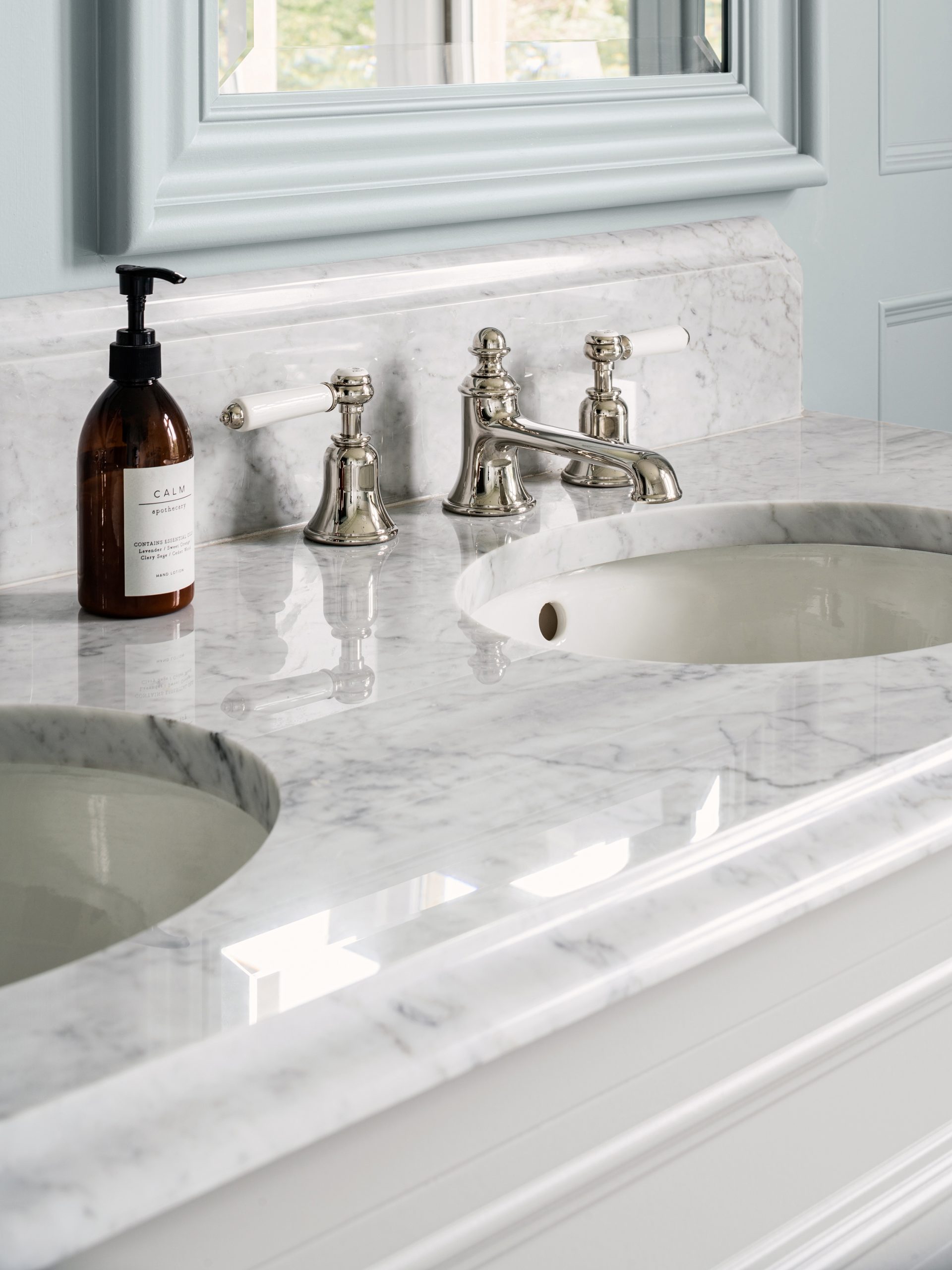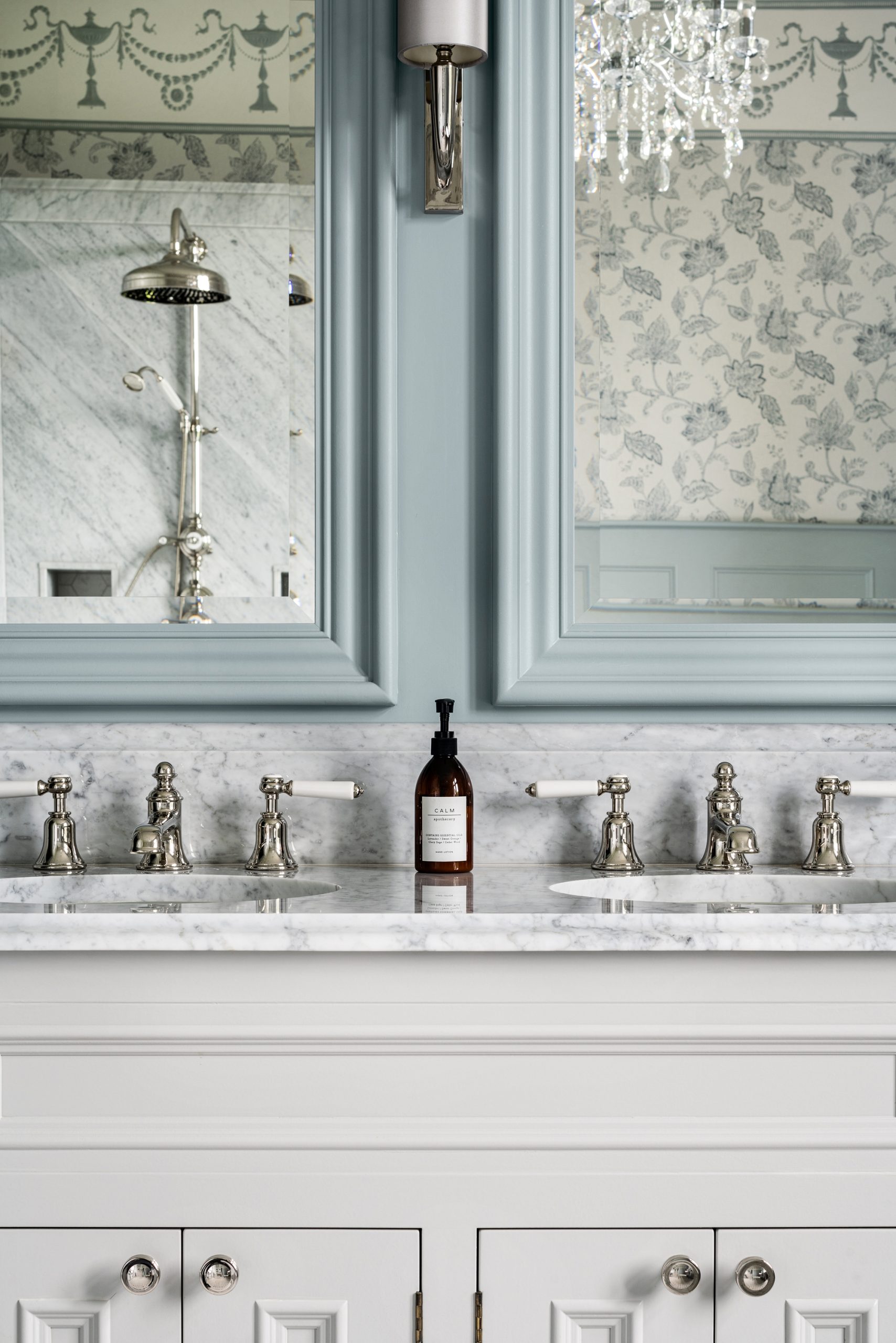 Almost invariably more spacious than the guest ensuites, we may advise incorporating a double sink to allow him-and-her their own space and associated storage underneath. If space it a little more at a premium, a tip for extra storage is to recess mirrored cabinets into the walls. This can create a hidden wall unit behind the mirror allowing access to everyday items without cluttering the cabinet tops.
As this would be the main bathroom for our client's own use, this is often the opportunity for the most tranquil, spa-like room. In keeping with this sought-after spa aesthetic, it's essential to use the highest quality materials and fittings. Where budget allows, marble is at the forefront of our designs. Marble offers the flexibility to create decorative-edged details on the bath or vanity tops. Exposed edges can be polished to avoid any need for tile trims. Each and every slab of marble is entirely unique, enhancing the bespoke look. Marble can even be positioned on feature shower walls.
Keeping it Classic for Timeless Appeal
If in doubt, always aim for timeless. Classics never date and will deliver longevity when the quality is right.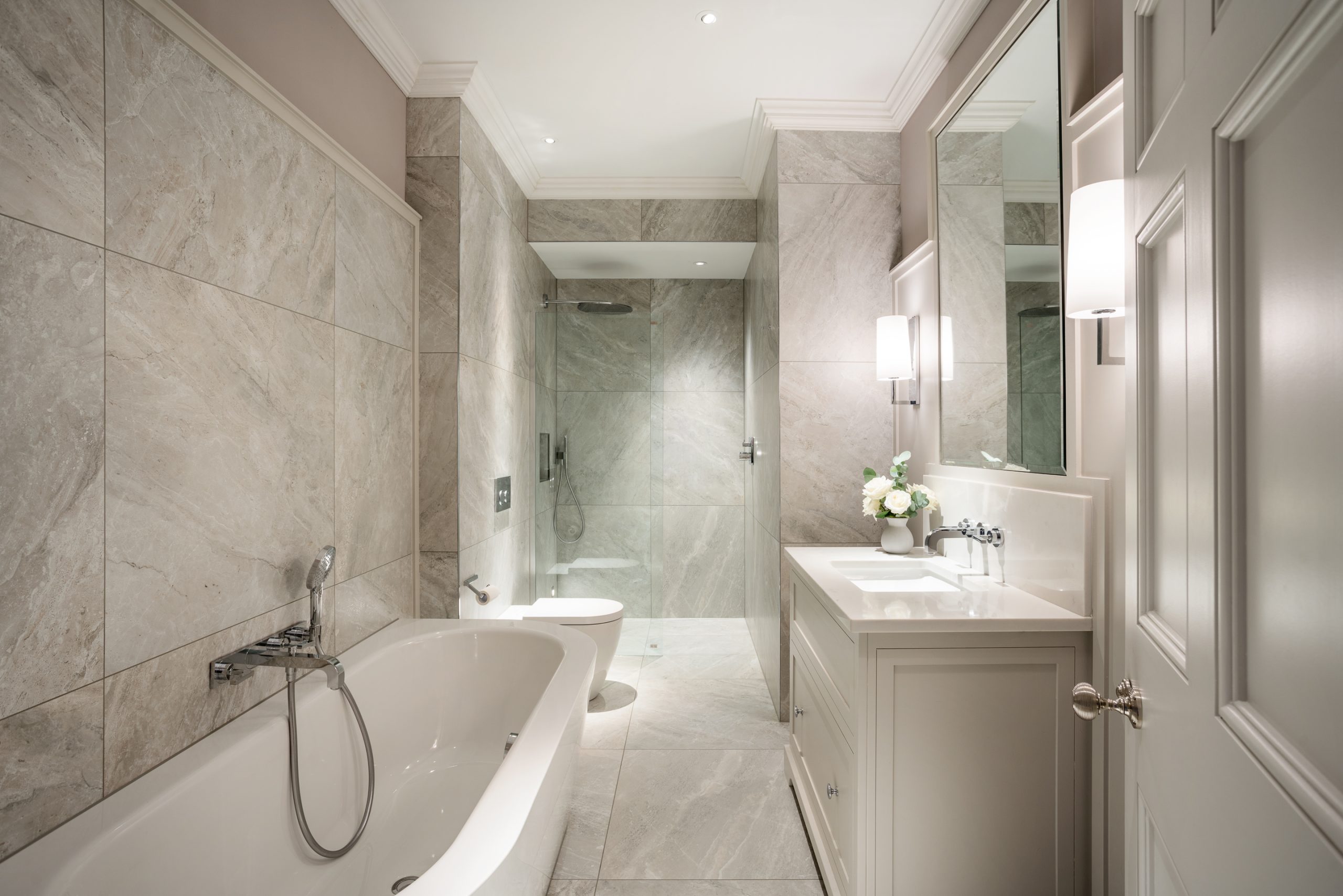 We'd almost always recommend favouring white bathroom furniture – we've all seen the 1970s nightmarishly coloured suites. There's a place for avocado, and that's not in a bathroom suite.
White is invariably the way for your WC, bath and under-mounted basin. However, sometimes there's room for a twist. If you're planning a countertop bowl, we could look to metal, coloured concrete, or even a stone-clad sink to pack a real statement in a bathroom. This allows the creation of a show-stopping feature with the vanity.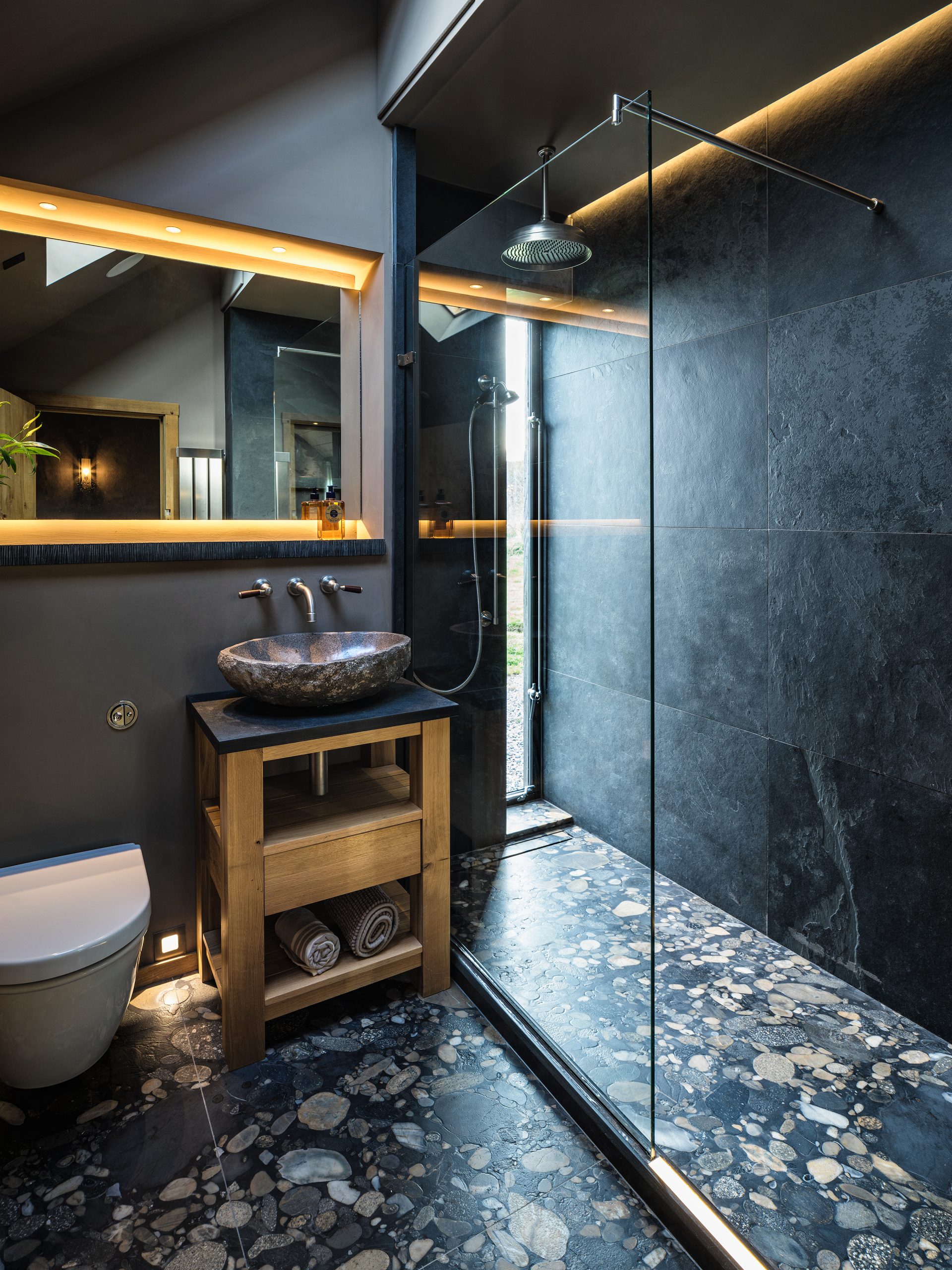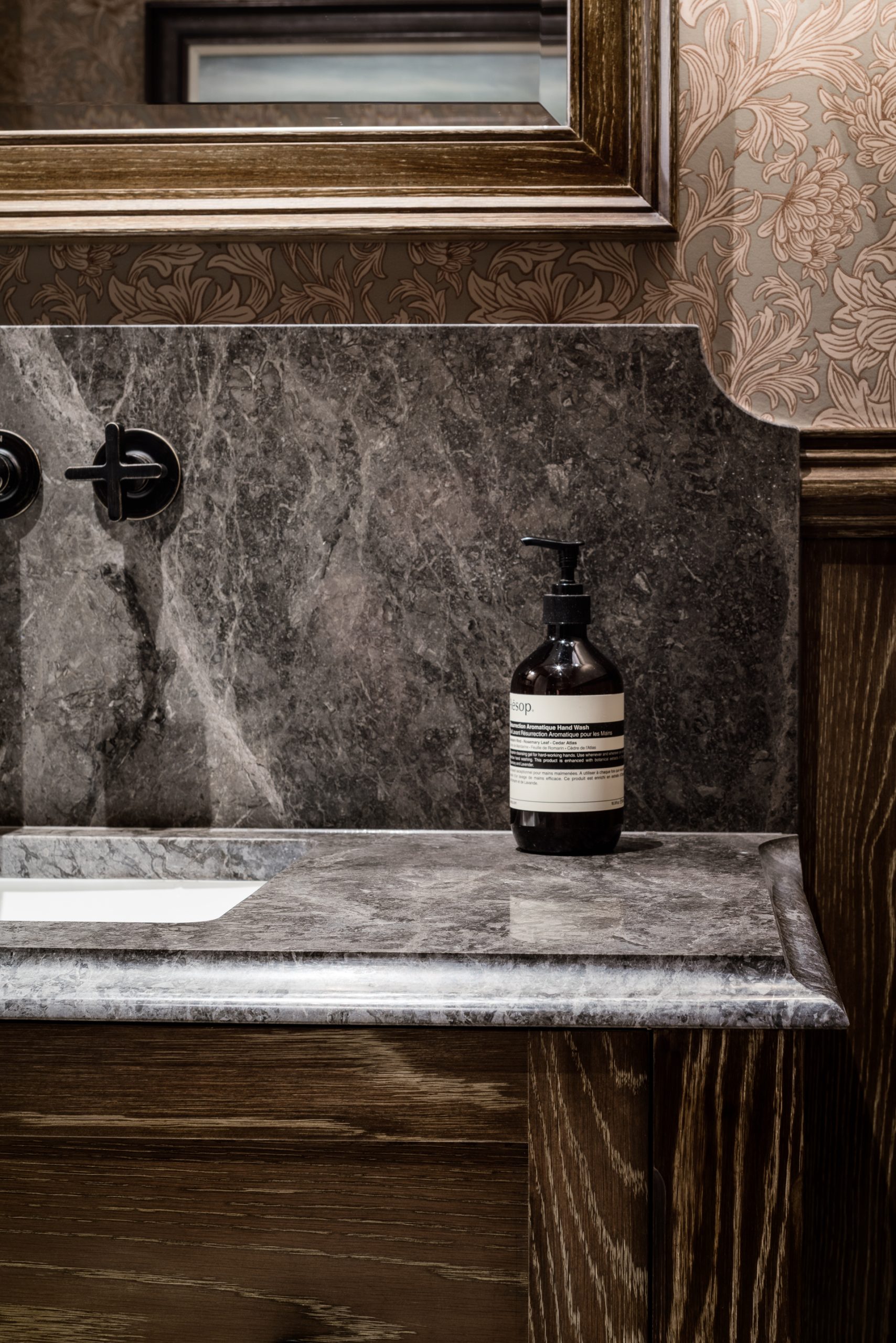 The Smallest Room
An area to have more fun with a bolder, trend-led scheme could always be the downstairs WC or cloakroom. A space all family, friends and guests will use, whether resident, overnight, or popping-in-for-coffee daytime guests. The downstairs loo tends to be a relatively small, entirely functional space – this isn't a place for relaxing or grooming. As such, the cloakroom can take a powerful design statement, whether that's a quirky wallcovering, a talking point print or evocative artwork, a surprising material change such as timber cladding, or simply an imposing paint colour. These should be a talking point, something a little unexpected, to make the user smile or even laugh.
As ever, all our suggestions and advice will be tailored entirely and exclusively to our client's needs and wants, along with space and budget. After all, the perfect bathroom is only perfect if it's perfect for you – and that's what we plan and ultimately deliver. Contact us. Let's start bringing your dream bathroom to life.